By
admin
|
Published:
March 4, 2013
By
admin
|
Published:
January 16, 2013
Thanks to the internet we now live in a global culture. Anyone can see the same thing at the same time. Even with the "great firewall" the Chinese have ways to access to the same content as someone in New York, London or Sydney. Because of this more and more brands are seeking to communicate with one global voice because it's impossible to put up walls between countries.
So how can we create campaigns that cross cultures and are meaningful wherever you are in the world? First we need to be sensitive about cultural differences
It's not just about translating text from one language to the next. We need to consider cultural values, etiquette humor and slang. A global agency needs local people to help develop a truly universal campaign. Otherwise this might happen…
When Pepsi entered the Chinese market, the translation of their slogan "Pepsi Brings you Back to Life" was a little more literal than they intended. In Chinese, the slogan meant, "Pepsi Brings Your Ancestors Back from the Grave."
When Kentucky Fried Chicken first opened stores in China, it didn't take long before they discovered their slogan, "finger lickin' good" translated to "eat your fingers off."
When Ford introduced the Pinto in Brazil, they were confused as to why sales were going nowhere. The company later learned "Pinto" is slang for "tiny male genitals" in Brazil. Ford ultimately changed the car's name to Corcel, which means 'horse' in Portuguese.
Can a brand campaign be universally understood and loved? Look at this recent example from the world of music to see how something can cross cultural boundaries. Gangnam Style has become the most watched video on Youtube. How can a tubby man singing in Korean become a global hit? He stuck a universal chord by combining a simple tune with a dance move anyone can copy. Is it meaningless fun? Of course! But it went around the world like wildfire.
Coincidentally the recent launches of Microsoft Windows 8 and Surface were essentially marketing messages wrapped inside music videos. Easy to use across cultures but can the message be more meaningful?
Global campaigns need to touch the hearts and minds of everyone no matter what their culture of language is. We could learn a lot from Pepsi who recently launched a new global campaign. Their new theme of "Live for Now" is a rallying cry as well as a clear brand spirit that is embodied by a pop-culture-focused campaign. It's centered around a social and content curation platform called Pepsi Pulse.
"Live for Now" came out of "the desire to build a global positioning for our flagship brand Pepsi," says president, global enjoyment, brands, and chief creative officer of PepsiCo, Brad Jakeman. "It's the culmination of 9 months of work around the world to understand the unique place that Pepsi already owns in people's hearts and minds." Jakeman says the research revolved around finding out how Pepsi "loyalists" defined themselves, and he says that what emerged as a theme was "the notion of making the most of every moment."
The Nike campaign "Find your greatness" is a great example of a message that resonated with people anywhere in the world – especially during the London Olympics when ordinary people could only admire the superhuman athletes performing. Running across 25 countries the campaign sought to inspire everyone to find their own moment of greatness and push themselves a little further. The underlying message is simple – if you have a body you are an athlete.
Cross-culture creativity relies on universal human insights to develop a message that connects with people. It can be on a deep or superficial level. But it comes down to understanding the humanity that unites us beyond language, culture or traditions.
Finally, a brand can't just say something, it has to live it too. So find your truth and then make it real. In every message, connection and action – be true to who you are.
Tweet This Post
By
admin
|
Published:
November 20, 2012
This month's Digital Media Awards ceremony in Beijing as part of the Digital Asia Festival highlighted some world-class creative thinking from across the region. I love this gold winner in the social media category from DDB DM9JaymeSyfu in the Philippines. It's an integrated digital campaign by Gabriela, one of the world's foremost advocates for women's rights, that used Facebook in a simple but impactful new way that turned every participating profile into an ad for the campaign.
Another gold went to Clemenger BBDO Sydney for their TEDx project in the media innovation category. They answered the question "What Twitter Would Look Like, Without A Laptop Or Smartphone". They produced a one-off installation that visualised the flow of ideas around the room in real time.
Wunderman (in partnership with Ogilvy, IKON, and Naked) took gold in the FMCG category with this innovative integrated campaign for Coke. They took the world's most iconic brand and handed it over to the public using personalization on a mass scale. After 125 years of putting the same name on every bottle of 'Coke', whey tried something new and printed 150 of Australia's most popular names on 'Coke' bottles and cans then invited Australians to 'Share a Coke'. I really like the way they connected digital with physical experiences to make the brand even more social.
In the automotive category the BMW Crop Circle campaign by Interone China took silver. Their task was to create awareness for the compact BMW 1 Series family and to incite the target audience to register for a driving event. They leveraged a simple truth: Chinese people are very superstitious. Anything mysterious triggers immediate strong attention and passionate discussions. They used the fact that there had never been a crop circle in the country. See the case below.
For all the winners click here.
Tweet This Post
By
admin
|
Published:
September 23, 2012
The newly announced winners at Spikes Asia show that marketing with a conscience is now a mainstream trend. Whether it's sustainability or social responsibility, brands are discovering that doing good is good for everyone – even the bottom line. The best example from Spikes was the Grand Prix winner in the Digital category. The Connecting Lifelines project by Dentsu for Honda, to quote the Spike's website, "was a response to the 2011 earthquake and tsunami in Japan. Roads in the region were affected and traffic was put to a complete stop. Within 20 hours after the earthquake, Honda quickly responded to the critical situation by providing road information collected real-time via the Internavi system installed on vehicles. By plotting these real-time data on a map, usable roads are visualized. Information was provided on the internet and through Google Map. Internavi became an indispensible tool for the nation".
In the Mobile category the Rapid Rescue app by JWT for the Red Cross was a great example of technology making a real difference in people's lives. The idea was "based on the insight that time is of essence when there is an emergency. It takes 4 minutes for the human brain to stop functioning in case of a heart attack. It takes 8 minutes for an ambulance to arrive. But life-saving help could be around the corner because Red Cross has 12,000 first-aiders in Singapore who are equipped to save lives. Rapid Rescue puts all individuals trained in first aid at everyone's fingertips. The mobile app that connects a First Aid seeker to a first-aider, instantly. Once pressed by someone in distress, the app sends out an SOS to first-aid trained individuals close to the victim via GPS. Along with the SOS, the app also maps out the shortest route to the First Aid seeker".
A Gold in the Direct category went to BBDO Guerrero and their Pepsi Bottle Lights initiative. As the Spikes website explains, "solar bottle lights are recycled plastic Pepsi bottles installed on roofs to refract sunlight into 55W of light. The brand has installed over 20,000 lights through the combination of volunteer action, online donation and direct sponsorship. Community management was magnified online and via events such as mass runs that collected and recycles used bottles for the activity".
In almost every category we can find socially responsible, winning campaigns. The Pedigree Adoption Drive from New Zealand by COLENSO BBDO Auckland took Gold in the Promo and Activation category with Donation Glasses. They wanted to "demonstrate the power of a donation in a memorable and fresh way. So they partnered with a production company and developed a way to watch two different films on the same screen at the same time. Utilising this technology, they screened parallel stories; the first of a mistreated dog who gets rescued, the second of the same mistreated dog who never gets found. Before the movie, cinemagoers could choose between two sets of glasses. One pair was free. The other they got for a small donation. That choice decided the fate of the dog on screen".
Working in advertising it's not always easy to feel that you are making a difference in this world. This work shows that doing something meaningful is possible. Check out all the Spikes winners here.
Tweet This Post
By
admin
|
Published:
August 21, 2012
A few years ago Josh Porter and Josh Brewer launched a site called 52 Weeks of UX. It was, and still is, an invaluable resource for anyone creating meaningful and effective user experiences for the web, mobile and beyond. Recently I've been approaching the development of advertising/marketing campaigns from a UX mindset. I'm not talking about the generic user journeys with multiple touch points but something bigger and deeper. It's about putting yourself in their shoes, seeing things through their eyes. By treating a campaign, on or offline (or both) as a user experience we approach everything from a different perspective. So let's look at some of the rules of UX from Porter & Brewer to see how they can apply to marketing campaigns:
1. The Experience Belongs to the User: "Designers do not create experiences, they create artifacts to experience".
In 52 Weeks of UX the authors say that we need to "design the framework within which people experience our product/service. If our framework is solid, then great experiences will be a common occurrence". When planning out an idea it's good to use diagrams to map out the campaign framework. You will see where the dead ends are and how doing one thing can lead to another. Your idea will become multi-dimensional.
2. UX is Holistic: "The experience is not just the product anymore. It is made up of all touch-points of a larger system, from the product to the support to the way your neighbor talks about it".
Porter & Brewer use the word system for good reason and campaigns can also be designed with this systematic approach. Only by mapping out the connections of every part can we expect our audience to be able to fully engage and have a meaningful experience.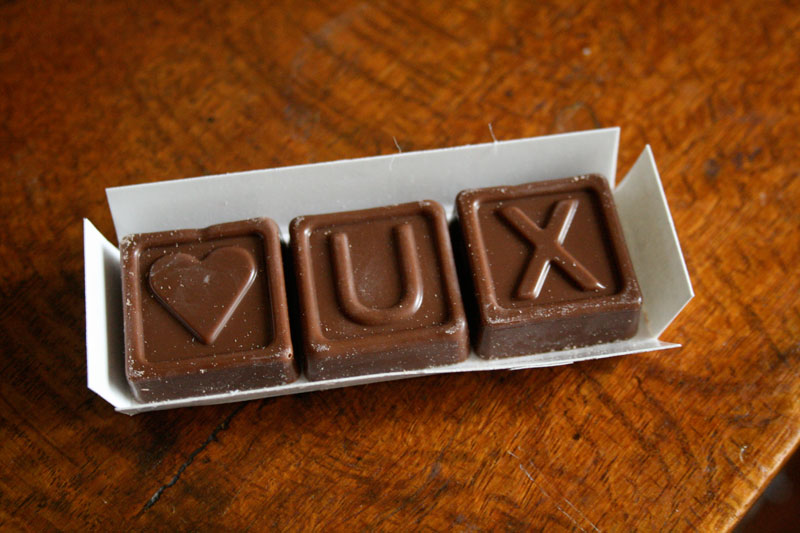 3. Great User Experiences are Invisible: "When people are having a great experience, they rarely notice the hard work that has been put into place to make it happen".
Same goes for good campaign planning. Nobody should feel that a brand is forcing them to do something that isn't a natural response. When a person engages with your campaign their next action should flow naturally. They should not feel like they have to jump through loops.
4. UX is a Lifecycle: "People experience the world over time…nothing happens at once".
When we create campaigns there is often a sense of panic that we have one shot to get the attention of our audience or else they will be lost forever. But if we can create an idea that is not just big but also long then we give our audience time to be drawn into our message.
5. Context is King: "In an age when it is easy to create products and content quickly, the missing piece becomes context: how does what we create fit into the lives of the people we create it for?"
Just like in UX design we need to fully understand our audience, how they behave and what influences their decisions. If our campaign fits the audience mindset like a glove they will be more likely to take the step to engage. Make sure you have real insights as a solid foundation to build your ideas upon.
6. Great Experience is about Control: "The worst feeling in the world is to feel out of control. When people feel out of control, they simply don't have a good time".
Porter and Brewer make a great point that is totally valid when it comes to creating effective marketing campaigns. Make sure your audience feels like they are the ones making a decision. Ask their permission, make them feel enabled or (better still) give them a sense of ownership as participants in the campaign.
7. UX is Social: "Time was when a person's experience with a computer was a solo affair. The most they did was to email someone and get a response. Boy have times changed!"
It's just the same with a marketing/advertising campaign. Social media will influence their opinions and actions. It also gives people great power of influence over others. The success or failure of your plan could depend on positive word of mouth so this must be built into your framework. It means listening as well as communicating.
8. Psychology is Primary: "Software is getting easier to use all the time. The one with the psychological edge will win. This means that we have to dive deeply into the psychology of use, play, product adoption, and social interaction to create the best experiences".
Sometimes when creating campaigns agencies can be a bit superficial when it comes to deeply understand their target audience's psychology, their motivations and triggers. Take time to truly understand who you want to engage with so your campaign has the best chance to succeed.
9. UX is a Conversation: "UX, like marketing, is a conversation. As UX professionals we are creating a dialog with users in which the goal is to find out how we can best help them do what they want to do".
The authors of 52 Weeks of UX see the relevance of this point to marketing and how it applies to UX. Marketing as a conversation has been a hot topic at award festivals these past few years but it isn't easy to get it right. Who is in charge of managing the conversations? Not just between a consumer and the brand but between groups of consumers. It can easily get messy so plan for all contingencies.
10. Great Experiences are Simple: "Simplicity is much more than the trite "less is more" we so often hear. Simplicity is not about volume; it's about clarity".
Watch a few case study videos and you'll soon see which campaigns didn't fully succeed because they were so complex. Our target audience is bombarded with brands trying to get their attention. We need to find a way to stand out with a campaign idea but keep it so simple that people just get it. It's clear what the message is and how we want the "user" to engage. Brilliant but simple.
Check out the 52 Weeks of UX as it's full of great thoughts that go beyond building websites or software. As we see these tips can be applied when it comes to creating effective marketing campaigns. You could even apply UX thinking to the internal process of a company. Or maybe to your own career path or personal life. For creative people like myself it's never a bad thing to bring some order to the chaos.
Tweet This Post
By
admin
|
Published:
July 26, 2012
As casual gaming company Zygna tanks, losing 42 percent of its value with a knock-on effect to Facebook, the writing is on the wall that the second dotcom bubble is ready to pop. For those of us in the business who lived through the first one it's time to look beyond the current worries and consider where to go from here. The first bubble burst when too many companies were trying to build online businesses that nobody needed. It was the wild west when good money was thrown at bad ideas. The industry was smarting for a while but came back strong on the back of social. But it has been clear for some time that it couldn't last.
You need to look at it from three sides. The dotcoms themselves, the advertising industry and most of all the public. With the swift success of social and the app economy many dotcoms sprung up based on the insatiable appetite of the public for anything new. Being able to connect with friends and spend hours oversharing or killing time with angry birds has created a generation of digital addicts. Marketers saw this phenomenon and jumped on the bandwagon either putting ads in the middle of all this hyperactivity or creating their own branded experiences to feed the audience's addiction. Maybe it's the global economic downturn that has been a splash of cold water in the face of the public but suddenly lots of people don't want to waste their time sharing, liking or playing mindless games.
So what's next? Can we get a glimpse of the internet's 3rd wave already?
My personal opinion is that we are entering the Age of Usefulness. It will still be social but above all it will help people make the most of their time not waste it. Nike Fuel is just one example of this. A brand that has a true purpose in people's lives and is building utility into its products that uses digital as the infrastructure behind a meaningful relationship with customers. We're going to see more brands seeking to have this kind of purpose in people's lives and this will be reflected in their marketing. Where does this leave all the dotcoms and startups designed to distract people with meaningless amusements? Many will fade away but some will rethink what they offer to the public. In this Age of Usefulness people will be seeking value. If time is currency then they will want to invest it wisely. To enrich their lives and relationships. Brands will have to be more responsible and answerable for what they sell and what they stand for. Now that can only be a positive thing.
The next bubble burst will be painful but what comes afterwards will be something more substantial and be a true fulfillment of the internet's promise. Tim Berners-Lee will be able to be very proud of his creation once more.
Tweet This Post
By
admin
|
Published:
June 25, 2012
When the Cannes Lions changed their mantra to being a "festival of creativity" it was because of the sea change that digital was stirring where the word "advertising" was quickly becoming rather meaningless. In many ways "digital" is an obsolete word today since it has become the electricity that runs through every aspect of our life. With this year's Cannes Lions we've reached that tipping point when every brand and every agency uses the power of digital to connect consumers with brands – sometimes literally.
As we can see from the Titanium Grand Prix winner for Nike + Fuelband. It goes beyond communication and becomes communion. Between consumers and the brand, with the product and with each other.
Almost every winner in every category has digital running through it. In Branded Content & Entertainment the Grand Prix when to Chipotle with their film using a digital-first strategy, first launching on YouTube with no paid media support. The launch was supported with an earned media plan and the social media assets of Chipotle, Willie Nelson and Coldplay to a collective audience of 21m Facebook fans.
In the Direct category a huge percentage of the Gold winners were digitally-centric including this project for Montblanc. This international campaign conceived for the web and a worldwide audience and target, was designed to build maximum awarness for Montblanc as a watchmaker brand. The simple idea was to ask people to create a 1-second-long video that celebrated the fragile beauty that can be found in this small unit of time. They teamed up with film-director Wim Wenders and challenged people to capture beauty in a 1-second-long video, creating the shortest ever short-film contest. People competed online at montblanc-onesecond.com by uploading their one-second videos of beauty.
—

It's the same story in Promo & Activation. Many of the top winners were either infused with digital goodness or relied on digital channels to get their message out there. Mobile is also becoming a great tool for activation and in this project George Patterson Y&R Melbourne has created the first medically diagnosable advertising for the Australian Defence Force.
These are exciting times to be in the "advertising" business. There are so many amazing possibilities right now thanks to the power digital gives us. The biggest challenge is finding the most relevant and meaningful idea. Because at the end of the day that's what counts. It's not the technology itself but what you do with it. Digital may have transformed Cannes but big ideas still rule.
Tweet This Post
By
admin
|
Published:
June 21, 2012
Another year and another wake up call for the advertising industry. Everything is now digital but not how you think. From the Outdoor Lions to PR and Promo, everything has digital running through it – because that's how it should be. It reflects the reality of the world we live in. The internet is like air. Who can live without it today? Anyway, the Cyber Lions were announced and we have two worthy winners. Twitter still seems to be on the rise as a great marketing tool (maybe because they don't have a CEO who is a tool) and this project for Visit Sweden was a risky idea that really paid off. As reported on AdAge, "the Swedish Institute's "Curators of Sweden" campaign, launched at the end of 2011, handed over Sweden's national Twitter handle (@Sweden) to Sweden's natives in order to showcase the diversity of the Swedish national character, in effect, launching "The world's most democratic Twitter account." Each week, a new curator was chosen to man the account, including a writer, teacher, priest and lesbian trucker. The campaign sparked recent controversy for featuring an irreverent young mother named Sonja Abrahamsson who expressed anti-Semitic remarks but also inspired (American) comedian Stephen Colbert petitioning to be the first non-Swede to take over the account".
The other winner is was the work done for Nike and their Fuelband. It takes the Nike + idea to a whole new level. Haven't found the case video yet but R/GA  developed an "immersive media launch event and participatory art installation around the concept of 'what fuels New York'. This evolved into a day of high energy missions and cultural activities all over the city, where the influencers were broken into teams and competed to earn the most fuel points. As a launching ground for the missions we created a futuristic departure space with motion-activated interactive light installations and leader boards displaying real-time fuel data. The FUELWALL interactive light installation became the inspiration for a series of responsive LED wall installations that we created in conjunction with Nike+Fuelband launch events".
Tweet This Post
By
admin
|
Published:
June 20, 2012
This innovate idea drove off with the Cannes Lions Outdoor Grand Prix and nobody saw it coming. To communicate a car's zero-emission technology agency Jung von Matt focused on its "invisible" impact on the environment by making the car itself invisible. Using LED lights and a camera which reflected a live feed, an invisible Benz took to German streets to wow onlookers.
Tweet This Post
By
admin
|
Published:
June 19, 2012
So the the first great project to win a Grand Prix this year is the Small Business Saturday campaign for Amex – winning in the Promo & Activation category. Developed by CP+B and Digitas, the campaign saw AmEx give small stores around America a digital toolkit to help them participate in the day, with instructions on how to build special Facebook pages, YouTube video ads and Foursquare deals enticing shoppers back onto Main Street.
Really like this silver winner from the PR Lions. O&M London created this for Dove where online banners that make women feel overweight or less than beautiful get an instant makeover.
Tweet This Post