It's been a busy few weeks what with quitting my job and getting things prepared for my move to China. The biggest worry was that Twitter is blocked there but I heard that through a VPN I can still keep tweeting. So expect my regular summary of my favourite tweets to continue…
Money for nothing? NYTimes: Marketing Fanciful Items in the Lands of Make Believe http://nyti.ms/9IoCCY
Amazing how easily people will part with their money. In this article we see how big brands are jumping onboard the money train too. For example, "Volvo Cars of North America, the clothing retailer H&M and MTV Networks are among the diverse brands entering the market for virtual goods — the make-believe items offered on social-networking games, smartphone apps or fantasy Internet sites".
Thoughts on branded utility… RT @loopdiloop: RT @IATV: "The Digital Evolution of Branding" http://bit.ly/dqBn3m
Fascinating article by Nicole Armstrong showing how brands are bringing value to consumers by extending their experience and providing a "meaningful utility that is there for the customer when they need it most".
Cool. RT @thinktank_int: Nike's Destroyer Burrito – good example of integrating digital & experiential to create buzzhttp://bit.ly/ccJraN
…

Cheers! iPad menus sell more wine… NYTimes: Choosing Wines at the Touch of a Screen http://nyti.ms/ajHAXQ
It could be just a short term gimmick or lead to a whole new line of low cost tablets. Right now it is certainly helping business.
Looking good… RT @adenhepburn: New Digital Buzz Post: Video: Meet The New Twitter.com http://bit.ly/aOEiUd
This could spell bad news for the likes of Tweetdeck but shows how Twitter has big plans to make their service more useful and intuitive for everyone.
Shame on us all 🙂 RT @nakedstudios: The Digital Agencies of the Future! http://bit.ly/btzbx0
This made me laugh so much. Even digital agencies have yet to wake up to the fact that people might be viewing their sites on devices not supporting Flash. See the whole wall of shame here.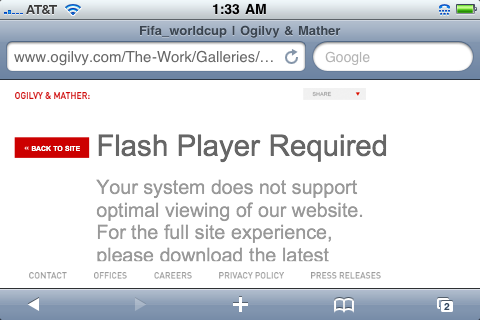 Nice… RT @BBHLabs: Liked: Google Creative Lab's Ji Lee on 'The Transformative Power of Personal Projects'http://j.mp/cQ4P43
OK, so most of us would say that we're too busy with work to develop personal projects like this one. But it's amazing where they might take you…
Wow! RT @BBHLabs: Old Record Player + Stop Motion + Lights + Tron Legacy Soundtrack = Awesome –http://j.mp/9NTEiT
Kim Pimmel uses old-school techniques to create something futuristic and surreal. See it in HD here.
RT @LarryTolpin: The Future of Ad Agencies – Incredible for New Hybrid Agencies – Not So Good for for Old Agencies –http://bit.ly/93NiZg
There is so much being written right now about which breed of agency is going to survive when all others fade to black. Edward Boches always has a well-balanced view.
Finally, something to make you smile as autumn bites (if you're in the same hemisphere as me). I've tweeted about both of these in the past couple of weeks and each could actually be a new ad for Ikea. One features dogs and the other cats. I know which one I'd prefer to be for IKEA. Enjoy…
…


Tags [Edward Boches, Freescale, Google, IKEA, iPad, Ji Lee, Kim Pimmel, Nike, NY Times, OK GO, PSFK, Twitter]
Categories [Brands, Creative, Media, People, Technology]