April was a month of Easter Eggs, Royal Weddings and other equally forgettable things. But so as not to forget some of the cool things I tweeted last month here is a round up of the best…
Very cool… RT @adenhepburn: New Digital Buzz Post: Xbox Kinect: Become Your Own Souvenir! http://bit.ly/dGeMG4
I love Kinect hacks and 3D printing so put them together and I am in digital heaven!
—–
Sweet… RT @PeteFyfe: This is quite smart. 3D projection mapping on a small scale for Vodafone: http://bit.ly/fC5ZRy
We are seeing more innovative uses of 3D projection mapping being the big brashy building projections being watched by pretty agency girls. This one is very cool.
—-
Gaming for a good cause – some great examples. RT @simonmainwaring: Zynga: How the virtual world can save the real world. http://ow.ly/4z1M5
We all know how casual gaming is a huge market and this article shows how this audience has a heart as well as spare time to waste growing virtual cabbages and such.
Interesting stuff… RT @ktroia: Razorfish5: Technologies That Will Change The Business of Brands http://ow.ly/1cbUGE
I don't mind plugging other agencies as long as they are sharing great articles like this one…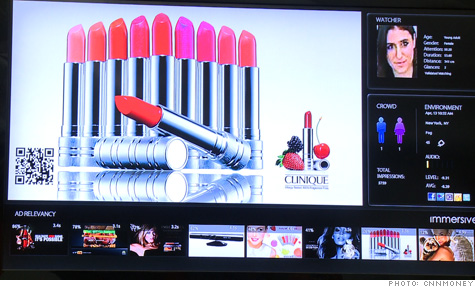 Ads that analyze and target you personally – interesting article on CNN http://bit.ly/fTq4nQ
Immersive Labs have developed a system where your computer analyses your face to target ads just for you. Will this take off or will people think this is taking things too far?
Everyone copies, Apple included. It's how you do it that matters – article on The Telegraph UK http://bit.ly/hS8uao
With Apple likely to be the most valuable company on the planet before too long it is interesting to read how they didn't get there by being original – just by copying better than anyone else.
I like… RT @ThePersuader: Brilliant use of #RFID helps #Renaultbring Facebook 'Likes' to life [Video]. Love it! http://ow.ly/4G7Xg
In the future we will probably all be "liking" things in the real world by swiping our mobile phones. Is this a taste of what's to come or just a gimmick?
Very cool… Nike Software Turns Runners' Footsteps Into Loopy, Swooshy Paintings – on FastCo Design http://bit.ly/euXxOr
This kind of project really excites me even though I know that it would only appeal to a limited audience. But who cares? it's looks fantastic.
They shoot they score… RT @contagiousmag: Heineken hits the back of the net with the launch of Star Player from @AKQA http://j.mp/mq4ET6
Could this be the future of an different kind of interactive TV experience?
I usually end with a smile but thought I'd buck the trend with this sad tale of a fantastic agency that has closed its doors due to some unfortunate circumstances. Thanks for inspiring us Modernista!
Sad story… RT @Adweek: The rise and fall of Modernista.http://bit.ly/k9jEfb
Tags [app, Apple, Facebook, Heineken, Kinect, Nike, projection, Razorfish, Renault, Simon Mainwaring, Vodafone, Zygna]
Categories [Agencies, Brands, Creative, People, Technology]