The awards season is kicking off again and one of my favourite award festivals has announced the winners for 2017. Let's look at some of the gold recipients from The One Show…

I'm sure that I have featured this as it won big last year at Cannes. It was probably not eligible for last year's One Show which is why it's still picking up gold in 2017. It's great to see Virtual Reality done differently. No headsets in sight. Just a bunch of excited school children having a collective experience thanks to the power of digital. Created by McCann New York + Framestore for Lockheed Martin, this also won Best of Interactive. It's always great to hear the stories behind brilliant campaigns so check out this article from 2016 in Adweek.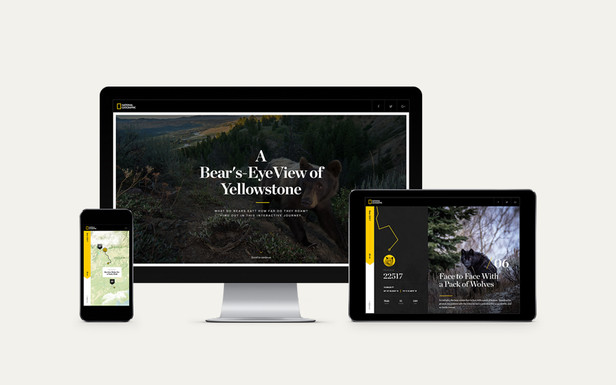 Education seems to be the trend for award judges, judging by this next gold from Hello Monday for National Geographic. Incredible footage allows anyone to experience life as a bear in Yellowstone park. You can see the case video here. Below is a description of the project from the agency…
"Working with National Geographic's team of editors, journalists, producers, and researchers, we've gathered this incredible footage into an engaging online narrative focused on the distinct paths that each bear roamed. Utilizing the geo-coordinate data captured with every 20-seconds of footage, we're able to pinpoint the bears to the exact geography of Yellowstone. Combined with expert analysis from researchers Kerry Gunther and Nate Bowers, delivered as intermittent audio captions, we gain a deeper understanding of the bears' activity as uncovered by the POV footage and their unique characteristics. And, of course, Hello Monday couldn't resist adding the extra hand-touch with watercolor illustrations and pencil-drawn portraits depicting the beautiful, mysterious life of each bear."
All the other gold winners went to gaming projects. The first is for TBWA\Chiat Day and their Gatorade Match Point game with Serena Williams. Released just in time for last year's US Open, this  Snapchat game honoured the amazing legacy of Serena Williams. Titled Serena Match Point, the 8-bit game was available on ESPN's Snapchat Discover channel, and featured 22 levels — one for each of the record-tying 22 Grand Slams that Williams has won. The game let users play as Williams against a range of different opponents, and featured simple controls. You just needed to tap one of three on-screen tennis balls to serve, and tap left or right to return the opponent's shots. If you missed three shots in a row, you go back to the beginning of Williams' career.
You can try playing the game by clicking this link.
Next is a project that uses gaming for a good cause. Sea Hero Quest by Saatchi & Saatchi for client Deutsche Telekom.
The game has been played by over 3 million people and has become largest dementia study in history. Sea Hero Quest, a collaboration between Alzheimer's Research UK, Deutsche Telekom, game designers Glitchers and scientists, has generated the equivalent of 9,400 years of lab-based research since its launch in May 2016.
Experts hope to use the data to create the world's first global benchmark for spatial navigation, one of the first abilities affected by dementia, and to develop the game into an early diagnostic test for the disease.
Finally, in these dark times we live in it's fun to imaging the end of the world as we know it. This project for Ubisoft by BETC Digital Paris does just that.
The full story behind the campaign can be read here. But if you are too lazy to read it all, in summary "this choose-your-own-adventure style online experience, darkly dubbed an "end of society simulator," plays on our secret desire to learn the answer to the question, "Will I survive the crisis that extinguishes 99 percent of humanity? 'Collapse' plunges you directly into the action. It kicks off with a creepy message: "You have been infected with an unknown breed of smallpox. You are patient zero. Because of you, a worldwide pandemic is about to start. Based on real data, discover how long it takes for our world to collapse."
Fun for all the family.